Regular price
Sale price
$6.95 USD
Unit price
per
Sale
Sold out
Share
Secrect Tile Stencil is available as SINGLE Tile Stencil or a SHEET w/6 tiles. SECRET GARDEN Tile Stencil is a unique Tile Stencil Design that elevates your decor adding a fresh and airy flair! Stencil your Secret Garden!

There is a lot of information so PLEASE CAREFULLY READ ALL THE DETAILS prior to selecting your size.
★ Sizes LISTED IS THE TOTAL SIZE OF THE DESIGN to cover your Tiles, and does not include the outer edges of the mylar material.
Secret Garden Tile Stencils are cut from 10 mil opaque SUPER DUTY mylar material to withstand a LOT of use. I suggest purchasing 2 Tiles allowing one to try while using the other to stencil. If you purchase a GROUP TILE STENCIL purchase a SINGLE TILE of the same size for hard to stencil areas.

Our first 2 photos are provided by DIY Home Crafters just like you!
Photo #3 Shows a Single tile design without Tile Guides.
Photo #4 Shows the Sizes Available for SINGLE TILE which is the size of the design, not including the outer edges of my mylar material.
Photo #5 Shows the GROUP of 6 design sizes makes it easier to stencil large areas. Sizes are limited for size options 4"x4" Tile GROUP of 6 to 7"x7" Tile GROUP of 6.
Photo #6 Shows What Tile Guides look like and explain their purpose when you don't have tile already on the floor or wall. Please leave a note "ADD TILE TILES" or "NO TILE GUIDES" in the Custom Info. box at the top of this page when checking out.
*All sizes are able to have the Tile Guides but the 17"x17" size.
Photo #7 Shows How to use Tile Guides if you are not stenciling over existing Tiles. Great for Patios & Linoleum floors to keep your design aligned along your tape lines. Start in the upper Left of your area and work your way to the Right edges of your space. Drop down to the second row and just follow through until each row is completed. Be sure when you're at the edges of your project to tape over the Tile Guides.
 Please leave a note "ADD TILE TILES" or "NO TILE GUIDES" in the Custom Info. box at the top of this page when checking out. If no message is left we will add Tile Guides. We supply Tile Tips to help you along the way but suggest you review a Tile Stenciling Video to help you select your supplies and prepare you for your project.
The TILE STRIP sizes located in SIZE works great for Stair Risers (Photo 2) ! If you do not see the size you need to complete your project please email us and we will add your size to this listing for you to purchase.
★SHIPPING: Your order will be cut to order & packaged to ship out from our studio USPS within 5 BUSINESS DAYS from the receipt of your order. We do accept RUSH orders please leave a note in SPECIAL INSTRUCTIONS when you check out if you have a RUSH ORDER. Please upgrade to USPS PRIORITY if you wish to RUSH your order when checking out.
FREE 1st Class Domestic Shipping on orders $35.00 or more!
be

uniquely

you

!
PROUDLY MADE JUST FOR YOU IN THE

U

SA

!
Secret Garden Tile Stencil - Floor Stencil - Wall Stencil - Allover Stencil
View full details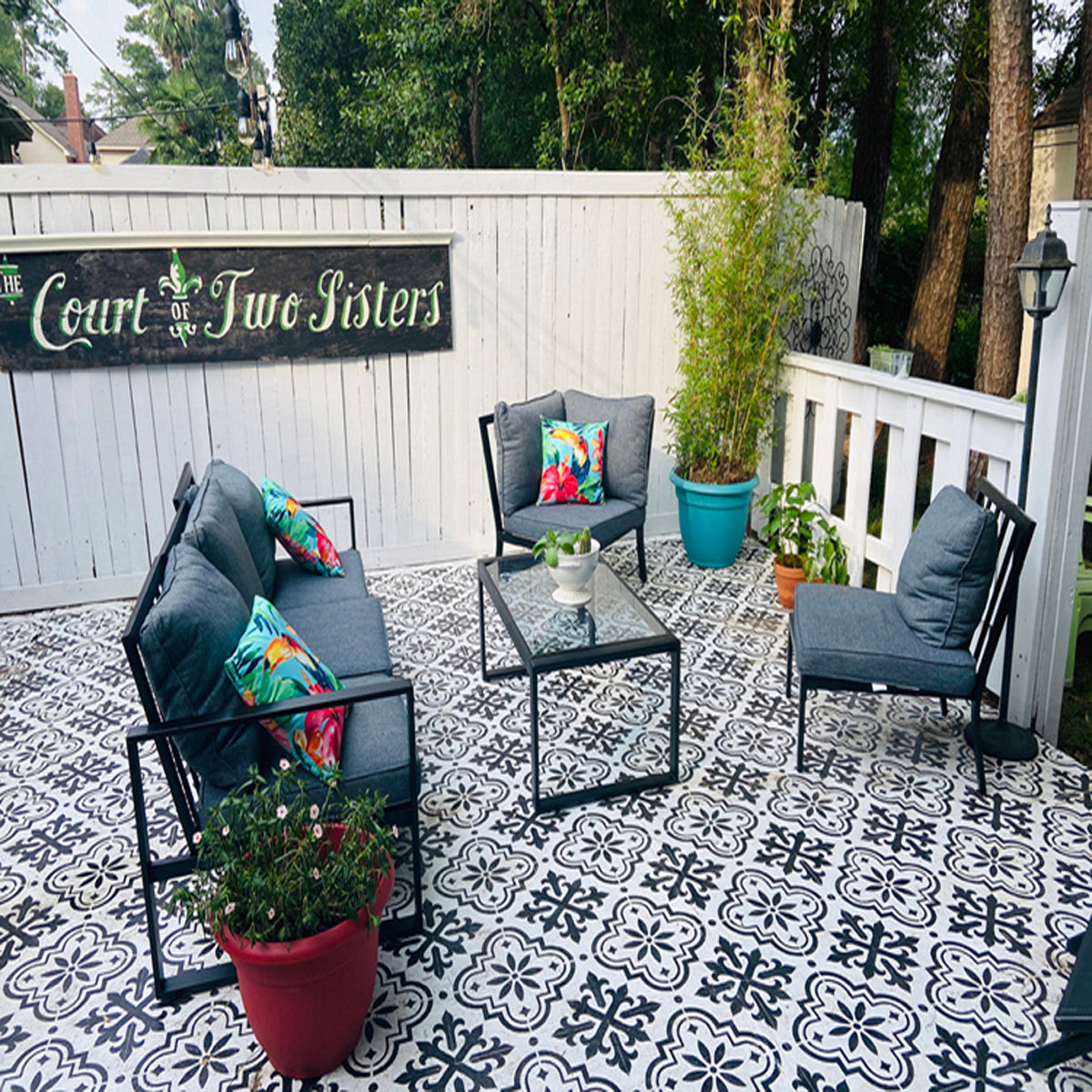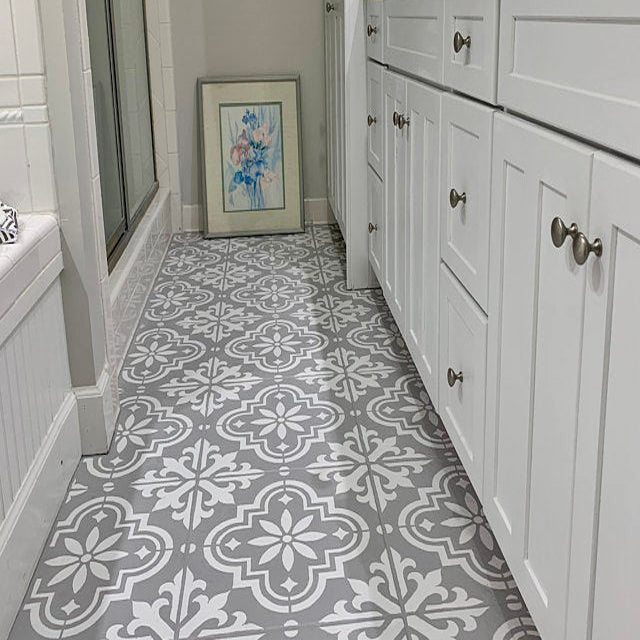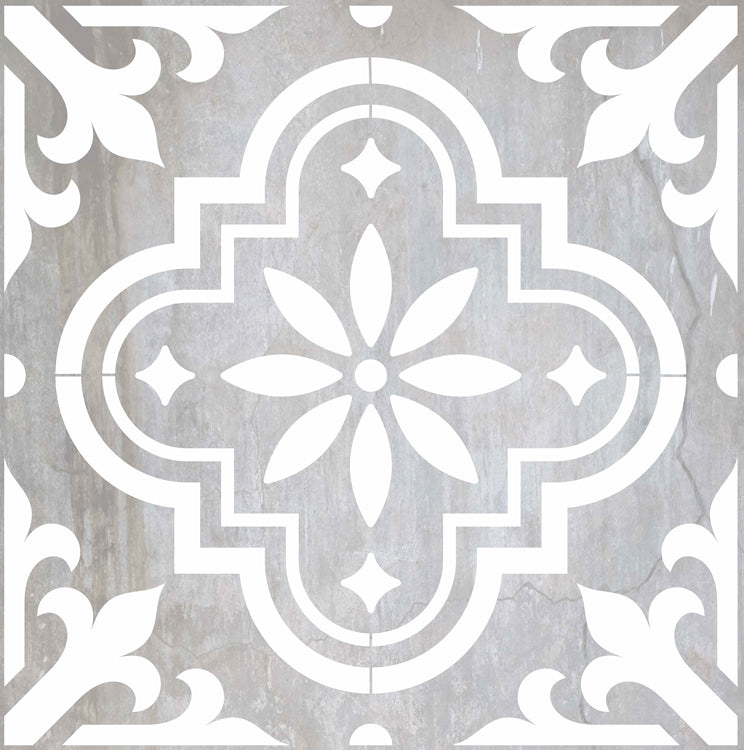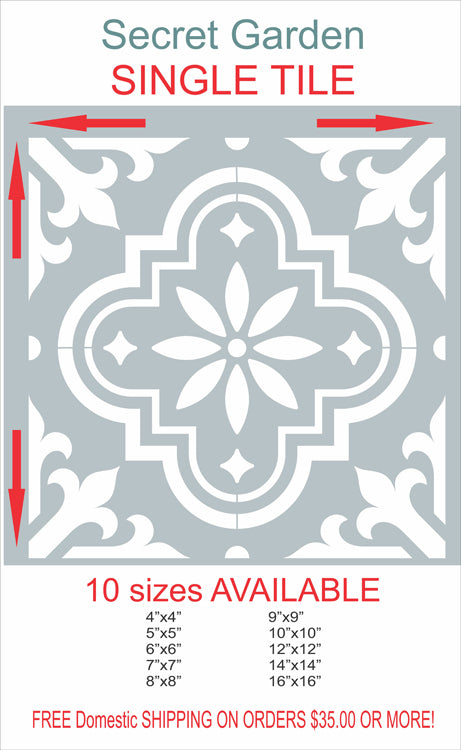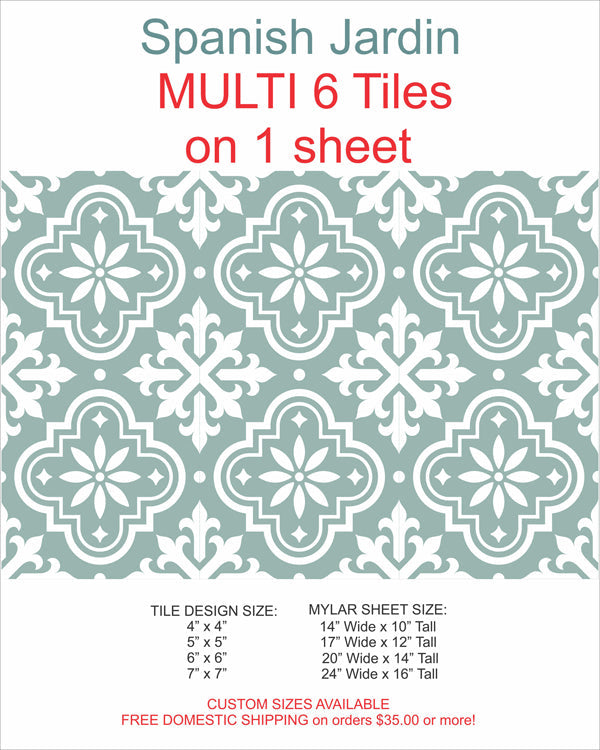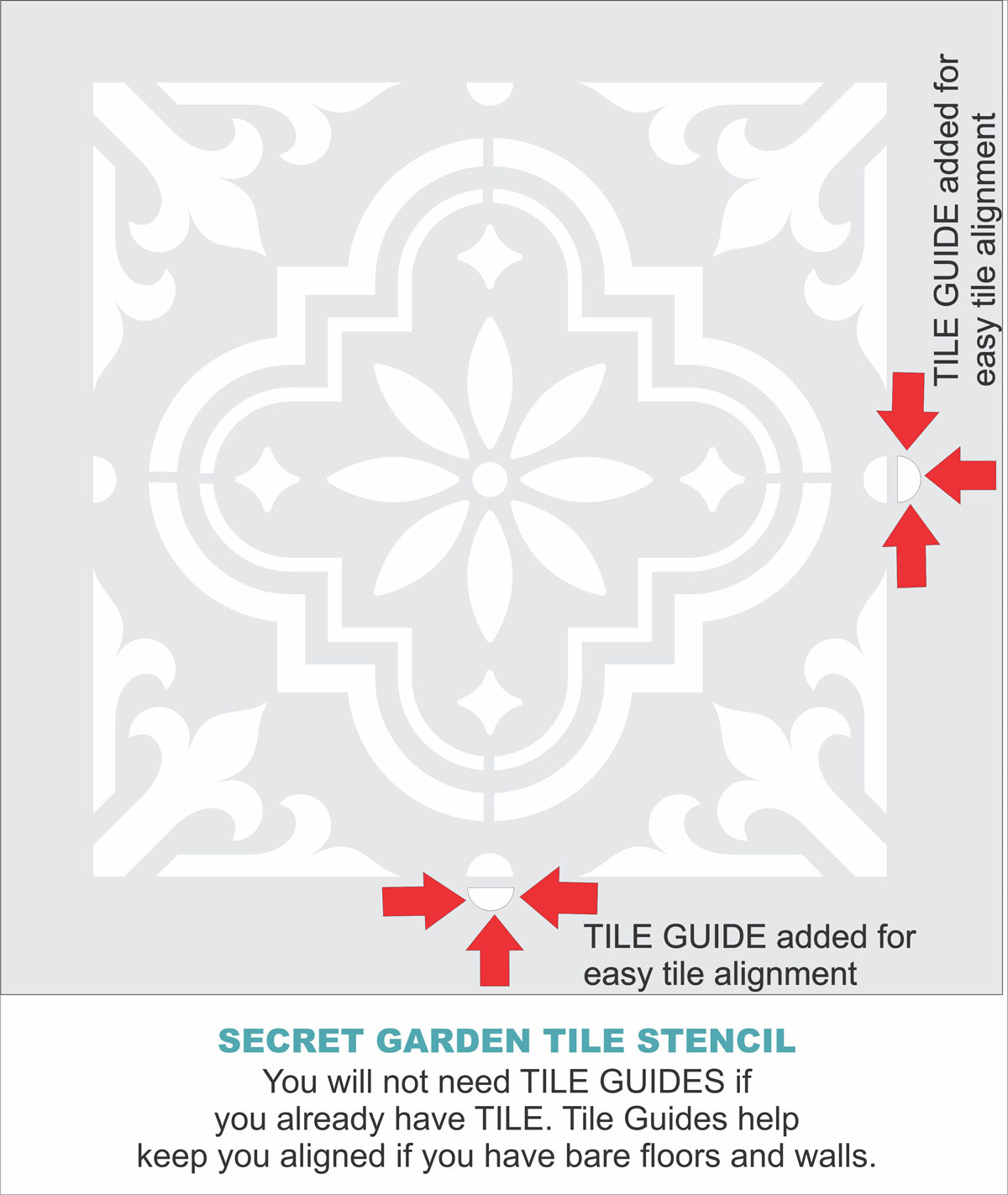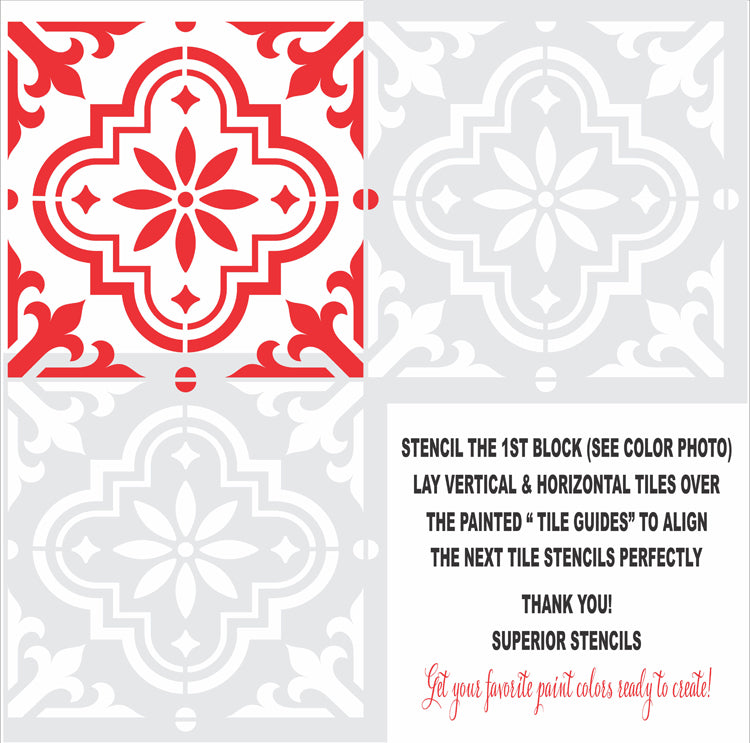 It worked perfectly!
I bought this stencil so that I could use it as a backsplash in my kitchen. And it was absolutely perfect! I even was able to contact The company again and get a special border stencil made so I could place that around my backsplash stencil. They were easy to communicate with and my stencils shipped and got to my house and no time at all. Instead of using the stencil with paint for my backsplash I actually used joint compound and spread it on like peanut butter on the stencil and then pulled the stencil off and it left a raised effect so it actually looks like tiles on my backsplash in my kitchen.
Looking good!
Nov 20 2022- Used on my wall and worked great! Was sturdy enough to stay in place while also flexible enough to bend in tough areas. Wish I had gotten the one with the guides, but used a laser level which helped a lot. Definitely recommend!
Love it!
Great product - stenciled my bathroom floor - decided to order a couple extra so I have them for touch ups down the road.
The secret is out!
Jul 29, 2022- This worked perfectly and is exactly what I hoped it would be. I stenciled our patio and I couldn't be happier.
Tile worked great!
Jan 28, 2022- Stencil was nice and arrived quickly. It worked pretty well for the first few tiles, but then I had trouble with some of the points lifting. It may have been because my tiles have a slight texture to them rather than being perfectly straight. It still worked, just requires more touch up than I had hoped. End result was absolutely beautiful.